FUNCTION
A fuel cell is a device that generates electricity through a chemical reaction. Each fuel cell has two electrodes, one positive and one negative (anode and cathode).
The fuel element H2/O2 is single-celled with a membrane-electrode block and is fed by hydrogen and oxygen.
By-products are water and heat.
ELECTROLYSER
Mini electrolyzer, produces hydrogen and oxygen, using only distilled water and an external power source. The source of power for the cell is a 3.7V 4Ah battery.
Or 2 AA batteries connected in series. Mini electrolyzer decomposes water into hydrogen and oxygen.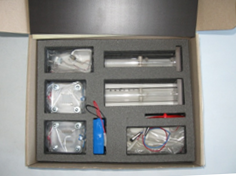 SET OF THE KIT
Fuel cell;
Electrolysis cell;
Load of the fuel cell (fan);
Capacity for hydrogen storage and storage (capacity H2);
Capacity for storage and storage of oxygen (capacity O2);
Power supply (can be replaced by a solar battery);
Connection tube 8 pcs .;
Gas valves 2 pcs.;
Acrylic plate (substrate for the set).