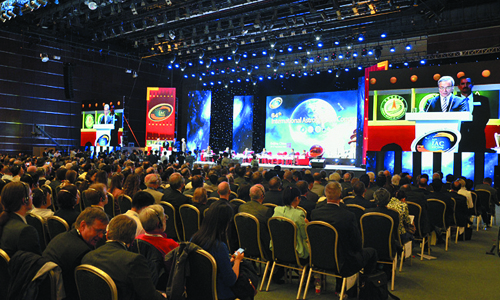 From September 23 to 28, 2013, the 64th Congress of the International Federation of Astronautics was held in the capital of the People's Republic of China, Beijing, which was attended by over 3 thousand delegates from 24 countries of the world. The International Astronautical Federation unites 205 members from 58 countries of the world.
Ukraine at the forum was represented by a large number of companies, including PrJSC "ELMIZ" represented by the President of the company — Alexander Bochkarev.
The main result of our enterprise's participation in the Congress was the admission to the Federation, which was a logical recognition of the many years of productive work of the labour collective and confirmed the international authority of the manufacturer of space technology.
The entry of "ELMIZ" PrJSC into the International Federation of Astronautics has significantly expanded the company's ability to conclude international contracts and exchange information.
Next year, the congress will be held in Toronto (Canada), and in 2015 in Jerusalem (Israel).
Since 1951, the International Federation of Astronautics has been dealing with the problems of peaceful learning and exploration of space, issues of rocket technology and equipment for space systems. The federation is based in Germany.
The president of the IAF is BERNDT Fuerbacher.
IAF official website – http://www.iafastro.org